Hallandale Beach AC Services - Emergency AC Service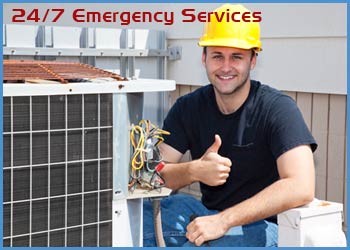 Did you ever wake up in the middle of night in sweat only to realize that your AC is not working anymore or spewing out hot air as opposed to cold? If you live in Hallandale Beach, FL, then you know how insufferable their summers can be. The temperatures can soar and the high humidity can make lives miserable. This is why you need an air conditioner that must work with all its might to keep you cool and comfortable. However, its breakdown in inevitable which means that you are never immune from its unexpected failure.
However, luckily you don't have to endure this punishment! Hallandale Beach AC Services offers the best and the most reliable emergency AC services to its residential and commercial customers. If you find that your air conditioner is not cooling effectively or your bills are inexplicably high, call us at 954-360-3023 and let us have a look!
Why are emergency AC services hard to come by?
Working 9-5 completely defeats the purpose of emergency service assistance. Imagine being stuck with a dead AC in the middle of the night! Do you really want to spend your night in a motel or fanning yourself to sleep? Lucky for you, there are some companies that work 24/7, offering full range of services outside of business hours too. But in most cases, these companies will charge you an unreasonable premium for seeking their services at that hour!
What to expect from us?
On-time service: We will arrive at your doorstep in 15-20 minutes of receiving your call.
Fixed properly or it's free: We will not charge you anything until the issue has been fixed.
True 24-hour service: Our 24/7 service lives up to the expectations of being the emergency service provider. No matter when you call us, you will find a professional at the other end of the call, ready to help you out!
Straight-forward pricing: We don't charge you premiums, surcharges or anything extra. Our prices are standard, regardless of when you seek our services.
Some of the services we provide:
AC not working? We can fix it:

Don't worry if your air conditioner stopped working unexpectedly. Just call our repair technicians and let them fix it for you.

Overnight service:

Working night shifts or want to save a productive day from being disrupted? Call us for overnight services.

Alternate arrangements:

If your air conditioner malfunctions with no hope for salvage, we can find you alternative means until you buy a new one or replace the old unit.

Refrigerant refill:

We can fill up the refrigerant in case of a leak or if you observe that the AC isn't cooling anymore. We can also recharge the refrigerant.

Duct clean-up:

We can check the air for indoor air quality and perform air duct cleanups to free the air inside your premises of contaminants.

Urgent installation:

Need emergency installation of AC unit? Why worry when you have us! Just give us a call and our experts will whip up a solution in no time.
Rather than losing your sleep over it, just call us and we'll get there in no time. Hallandale Beach AC Services has a team of experts that is equipped with latest tools and mobile vans that can reach your location in no time and fix your issue on the spot. Dial 954-360-3023 right now!