Hallandale Beach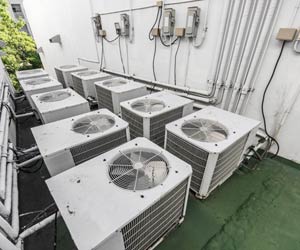 In 1897, the railroad Henry Flagler appointed Luther Halland, a Swedish worker to establish a settlement south of Dania. What followed after is a story that's still retold for being one of the finest examples of growth and prosperity. Halland knew what it took to sell the land, and so he propagated its frost-free climate and serene atmosphere amongst prospective settlers. Soon, word spread and settlers poured in, and the small, sparsely-populated community soon grew in size. Its warm and humid climate, booming gambling scene and quiet life made it a haven for retirees who flocked the region in huge numbers. Today, Hallandale Beach is a place that offers the luxuries of a city while staying true to its promise of offering a quiet, old town life.
How ACs became a necessity?
The warm and humid climate in Hallandale Beach proved to be the major catalyst for its growth, as northerners migrated to it in droves to find an escape from nail-biting winters elsewhere. However, as development progressed, soon the very factor that drove its growth was what stalled it. As the number of people increased, the space shrunk, and the summers in the city started to get highly intolerable. After the 1950s, the introduction of air conditioners brought in some much-needed relief to the community, with ACs being widely adopted in all homes and commercial spaces.
Putting ACs to right use
Today, the Hallandale Beach community practically thrives on air conditioners! These systems provide the much-needed escape from the sweltering heat and humidity and keep us cool. But how many of us put our ACs to the right use? Most of us consider ACs a one-time investment, and then forget about it! Did you know that an improperly cared-for AC could be multiplying your electricity bills? Did you know that ignoring a refrigerant leak could also impose a threat on the environment? If you want your air conditioning system to work up to their maximum efficiency, it's high time you roped in a trusted AC service company to assist you with the complete life cycle, right from installation to replacement.
Choose Hallandale Beach AC Services – a leader in the AC services space with over two decades of experience in catering to a residential and commercial client base.
What we provide?
Installation: Need a new AC setup? We'll help you choose and install an AC the right way so it works efficiently.
Maintenance: Don't subscribe to expensive maintenance plans! Our plans are custom-fit to suit your needs and prove cost-effective.
Repairs: AC malfunction? Call us in Hallandale Beach; our experts can fix anything and get it to work.
IAQ solutions: Experiencing a sudden bout of illness? Take a closer look at your air quality with our help! We'll help keep things fresh indoors.
Call us now on 954-360-3023. We work in multiple zip codes:
33009